Furniture Reinforcement and Recovering in Mt Juliet, TN
services
overview
Morgan Drapery & Upholstery has been serving customers in the greater Nashville area since 2004. Come and see us for the finest quality furniture reinforcement and recovering in Mt Juliet, TN, where we work with pride to create furnishings of outstanding workmanship. With more than 25 years of experience, our clients have come to rely on us for the quality they expect.
As a complement to our fine custom furniture upholstery options, custom window treatments are a 'must have' to enhance the beauty and comfort in any home, office, apartment or commercial building. If your bedrooms are in need of makeovers, we'll put together a combination of custom-made headboards and luxury bedding for your home that will be sure to have you relaxing in comfort.
For a high standard of quality and excellent craftsmanship, visit our on-site custom upholstery workshop, or give us a call, and one of our expert designers would be happy to help you get your next project or vision underway. We've also enclosed useful information about our products and fabrics to help you get started.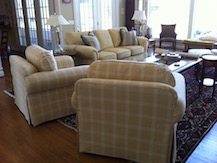 Our Services
Custom Headboard